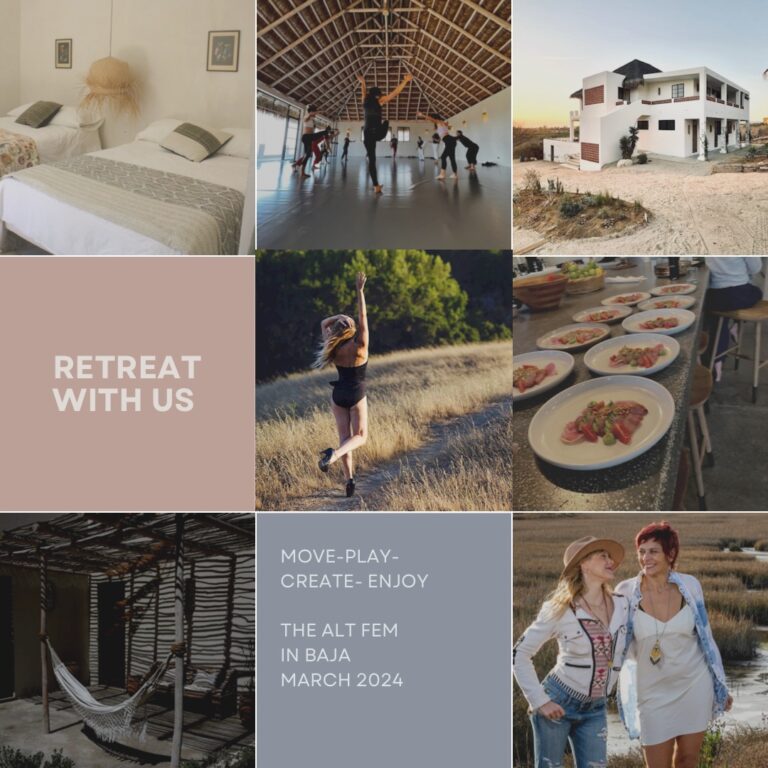 March 8-13, 2024
Hello beautiful mover!
Join us at our sleep-away 5-day retreat at the El Campo retreat center near Todos Santos, Mexico. An artsy little enclave with great food and people. El Campo is located about 10 minutes outside of Todos Santos in a sleepy little community called Pescadero. This Retreat Center has been established by our dance sister, and friend, Annie Parr. If you know Annie, you know she has incredible style and her new Retreat Center reflects a relaxed and celebratory Mexican style! Prepare to feel the vibes and wear bright colors!
Retreats are the ideal way to experience what the Alt Feminine can bring forth in your life. The immersive experience of leaving home and getting away from the rhythms of "normal" reality creates the best conditions for remarkable lasting transformation.
Whether you're needing some downtime to reflect on your personal life, reconnect with your deepest soul's desires, are looking for a safe space to explore your sexy sensuality or just want to let loose and have fun in community with like-minded women join us for this full immersive experience in Baja!
Spending multiple days in community with other women, dancing, sweating, learning and growing yourself is a gift we hope all women can give themselves one day. When you take care of others, you must also take care of yourself to stay balanced. We have deliberately created this retreat to be the instigator of self-care and soulful re-connection that we often don't have time for in daily life.
There will be chef-prepared, delicious meals on a daily basis (light lunch and yummy dinner). Breakfast will be free range, fruits, yogurt, granola coffee, tea daily -with supplies provided by us. 
There will also be opportunities for downtime and adventures of your choosing. We will, of course, be holding classes EVERY single day for your movement enjoyment and taking care to create a fabulous slow, and meaningful five days of fun together in Mexico! 
---
We have two lodging options available:
Option 1 (6 rooms available):
Twin bed – shared room lodging for 5 nights
3 beds per room
All in-house meals and classes included
$2300. 00
Deposit $1150.00 due at the time of sign up 
---
Option 2 (6 rooms available):
Full bed – shared room lodging for 5 nights
2 beds per room
All in-house meals and classes included
$2500.00
Deposit 1200.00 due at the time of sign up
Deposits are non-refundable after October 1st, 2023.
The second half of tuition will be due on or before January 5th, 2024.
---
Details regarding transportation from the airport to the Retreat Center are available for the asking. The cost for a van that holds 10 to take you directly from the airport to El Campo will be $200. You may share it with a group or you may decide to take on that cost on your own if you fly in at a weird hour. The Alt Feminine will not be facilitating the ride service but we will share any and all information so you can feel prepared on your arrival. El Campo is located 70 minutes from San Jose del Cabo International Airport.
All levels are welcome, no experience is necessary!
This is a women-only space
Visit El Campo here!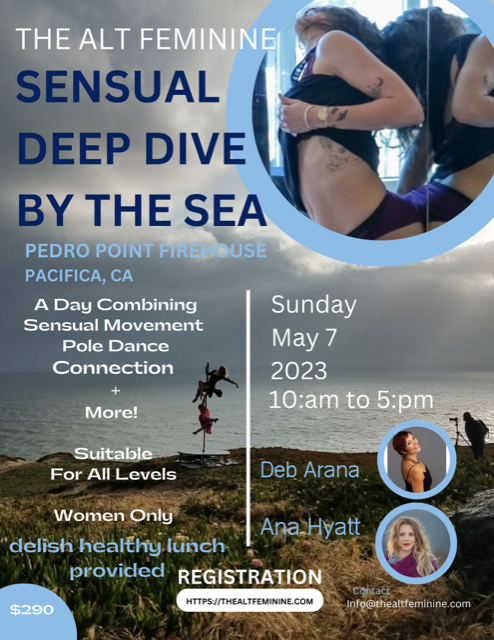 A day of sensual pole dance, connection, a delicious lunch + more. Come experience the healing magic of sensual movement with us!
Date & Time: Sunday, May 7, 2023, from 10 am-5 pm
Location: Pedro Point Firehouse in Pacifica, CA
Cost: $290
Daylong Sensual Movement Retreat with Deb Arana & Ana Hyatt includes:
day of sensual movement + pole dance
connection with a circle of like-minded women
delicious healthy lunch
All levels are welcome, no experience is needed.
For women over 18. Space is limited. No refunds after 5.1.23.  
More details will be provided closer to our day together!